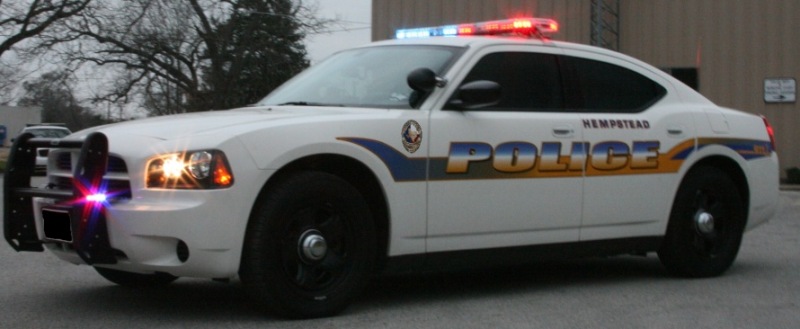 The Patrol Division currently consists of 11 patrol Officers. The Hempstead Police Department also has an active reserve peace officer program. All Reserve Officers ARE sworn and licensed police officers, however they maintain other full time employment and volunteer their time at Hempstead Police Department in their off time. Patrol Division is directly supervised by the two Patrol Sergeants.
Officers patrol the city limits in police vehicles to enforce laws and prevent crimes; make traffic stops of violators, including issuing citations and warnings; respond to calls received from dispatch; make arrests of violators and suspects; serve arrest warrants; prepare reports on incidents; testify in court as needed; investigate vehicle accidents; perform searches of vehicles and persons; and investigate crime scenes, including taking photographs and fingerprints.
The Patrol Division's main duties include:
· Responds to calls for service
· Deter crimes by visible patrols
· Detect, apprehend, and process persons involved in criminal activity
· Recover and return lost or stolen property
· Ensure the safe movement of vehicular and pedestrian traffic
· Provided follow-up investigation of offenses when warranted by time or circumstances
· Reduce both immediate and potential hazards to the community
The Patrol Division is the largest unit within the Hempstead Police Department. The Patrol Division is referred to as the backbone of the Police Department because these uniform officers are responsible for the 24 hour-a-day task of responding to calls for service, preventing criminal activity, conducting preliminary criminal investigations, apprehending criminals, traffic enforcement, accident investigation and community interaction. Patrol Officers work ten-hour shifts. The Patrol Division is divided into various shifts providing overlapping patrol coverage during peak hours of activity.
All officers are certified by TCLEOSE and receive continuing education training on a regular basis. Patrol officers may also serve or assist in specialized units, such as special operations, evidence room custodians, and training.
All patrol units are equipped with standard policing tools, including radar, in car video cameras, mobile radios, and crime scene collection materials. The individual officers also have access to digital cameras and portable tint meters.